I don't do many personal blogs, but my husband and I just hit our 2-year mark in Italy and I figured what better way to celebrate it than with a few photos!! What a crazy 2 years it's been. Naples can be an acquired taste and for awhile Naples and I had a love/hate relationship. But whenever I get a chance to get out and explore I am never disappointed and I become more enthralled with this magical city! Also celebrating 2 years in Italy is my best friend, Laura (who would not let me take a picture of her yesterday-HAHA)! She landed in Italy the same day we did and we ended up in the same area orientation class together. Then we would, (without planning), end up on the same trips & tours together. After that, we figured if this is how it's going to be we might as well just plan this stuff! And we became the best of friends and travel buddies! Then she and my husband got me hooked on Doctor Who, further blossoming our friendship, but that's a story for another day! HAHA!

Laura and I made it down to the beautiful Lungomare of Naples for the Gelato Festival yesterday. We had more gelato than we could handle and didn't even finish all the "Tastes" you could get! Seriously...SO.MUCH.GELATO! But oh it was so delicious! Our favorite was the lemon Amalfitana taste! There was even a new flavor that had Peperoncinis in it and actually had a little spice to it. (I never would've thought of that for gelato.) There was also a mango-kiwi flavor that didn't taste like gelato-flavored mango and kiwi...it tasted like actual mango and kiwi! I don't even know how to describe it. Laura said they have successfully "Gelato-ized" the fruits! We need to call Webster's with all the new words that were made yesterday! ;) And let's not forget the Nutella gelato (because it's not a festival in Italy without Nutella)!

After resting and coming down off our gelato-highs, we decided to head back. But while walking around the streets of Vomero, we came upon a Neopolitan Puppet Show with the beloved mascot of Naples, Pulcinella. It's like an Italian Punch & Judy Show. They were talking so fast that I could only catch a few sentences here and there, but the children sitting next to us were squealing with delight, so it must've been good! It seemed like a fairly traditional show until the end when Pulcinella and the female character were dancing together in what seemed to be a nightclub of sorts...complete with fog and strobe-lights! It's just one of those times where you just have to laugh and say "Only in Naples!" It truly is a city all it's own. Maybe it's because we're crazy or maybe we love it? Maybe it's Stockholm Syndrome?? ...but my husband has put in a request to extend our tour here in Italy for one more year! Whether it's approved or not is still up in the air, but we still have at least a year left and I plan on sharing tons more adventures with all of you!
Yeah, that's me - I'm usually the one BEHIND the camera and I prefer it that way, but there ya' go!

Castel dell'Ovo and 101 Dalmatians-themed train ride! Why not?
Puppet show featuring Napoli's own, Pulcinella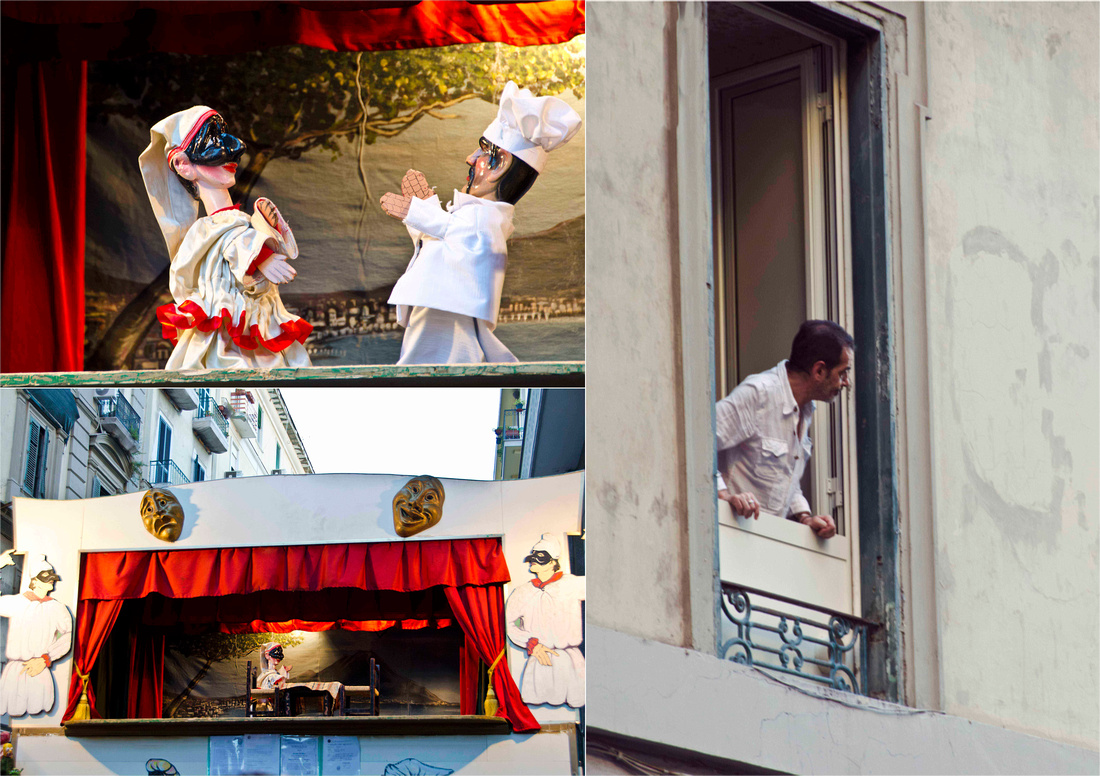 While watching the puppet show, a man stuck his head out the window to watch!
And here's the famous night-club dance scene!
Only in Napoli!

XOXO