Oh Venezia...you have stolen my heart. This beautiful, romantic city in it's elegant state of decay and it's seductive charm has swept me away with it's beautiful water and glorious piazzas...there will never be another like it. A city so exquisite yet so comfortable, built by farmers and fisherman who fled the mainland to escape the Germanic and Hun invasions, who became wealthy merchants and built some grand houses and palaces. It's architecture, a blend of eastern and western styles is perfectly called "Venetian Gothic."
We decided to get away from Napoli for the New Year this year. And although no other place on Earth beats the excitement and insanity that is Naples on New Year's Eve, Venice will sweep you away at any time of year. I'm so excited to share our adventures with you! This trip was short, but so very special! Prepare to ooh and aww over the wonders of this magical city!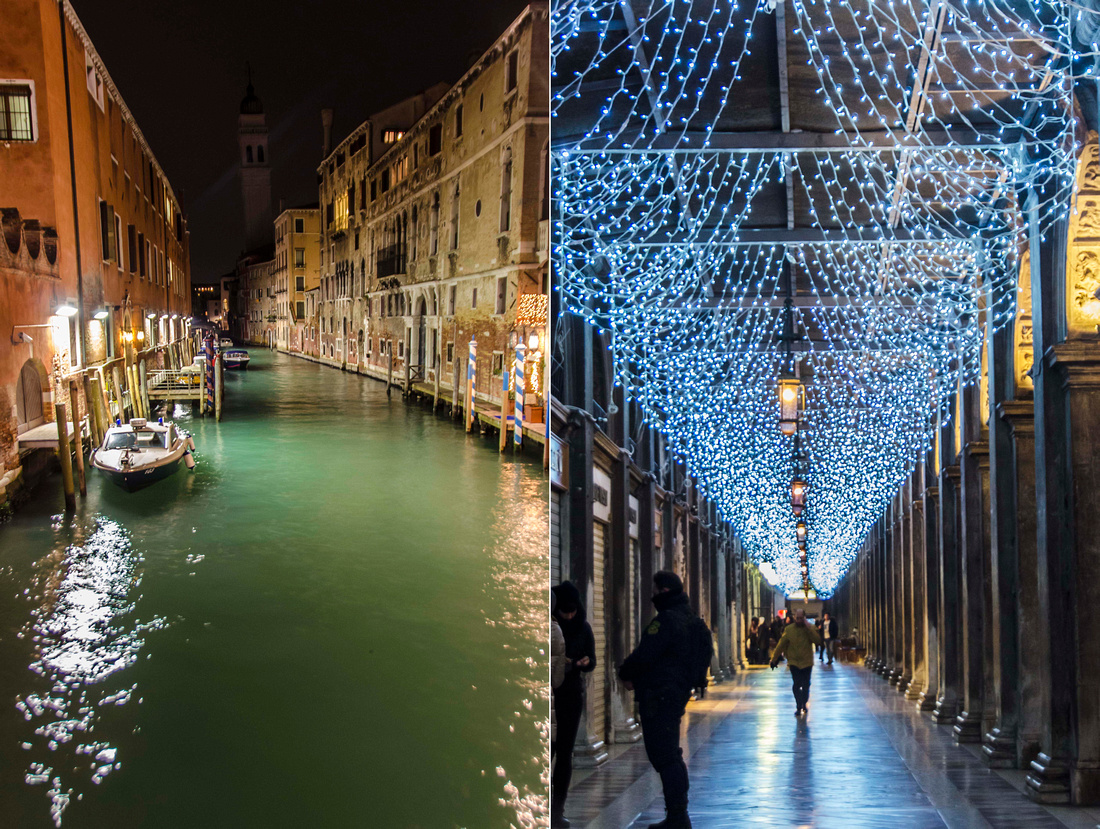 Our first morning in Venice (New Year's Eve), I woke up about 5:30AM to head down to St. Mark's Square in hopes of catching some sunrise photos. I had been watching the tide schedules and knew that high tide was going to coincide with the sunrise this particular morning and was secretly hoping I'd get to experience Venice's "Acqua Alta" (literally: High Water"). "Acqua Alta" is a natural phenomenon in Venice when the tide is higher than usual and it floods much of the low-lying areas. The city puts up scaffolding-like walkways for people to cross because even when it floods, life in Venice continues. These metal "Bridges" can be seen folded up and stacked in all corners of the city just waiting for the next time they're needed. But this high tide was just a normal one and we never got to experience Venice's famous Acqua Alta. I was prepared too! I even packed my rain boots! HA! It was also terribly cloudy and overcast, so I saw our glowing orange star rise and look as if it was being pulled from the horizon...then it completely disappeared. :/
But I did get some other pretty shots and saw a new day dawn in the peace (and cold) of Venezia!
This was one of the only photos I got of the actual sunrise. It wasn't the pretty light and spectacular colors I was hoping for, but every new dawn is a gift and this one was even more special.

Before I left to go back to our hotel (and my sleeping husband), I braved through the cold just a little longer to get a few mores photos. By the time the sun came up my fingers were totally numb through my gloves, but I don't scare that easily. ;) St. Mark's Square is unequivocally the most breath-taking and elegant square I have seen in my travels of Europe, ever!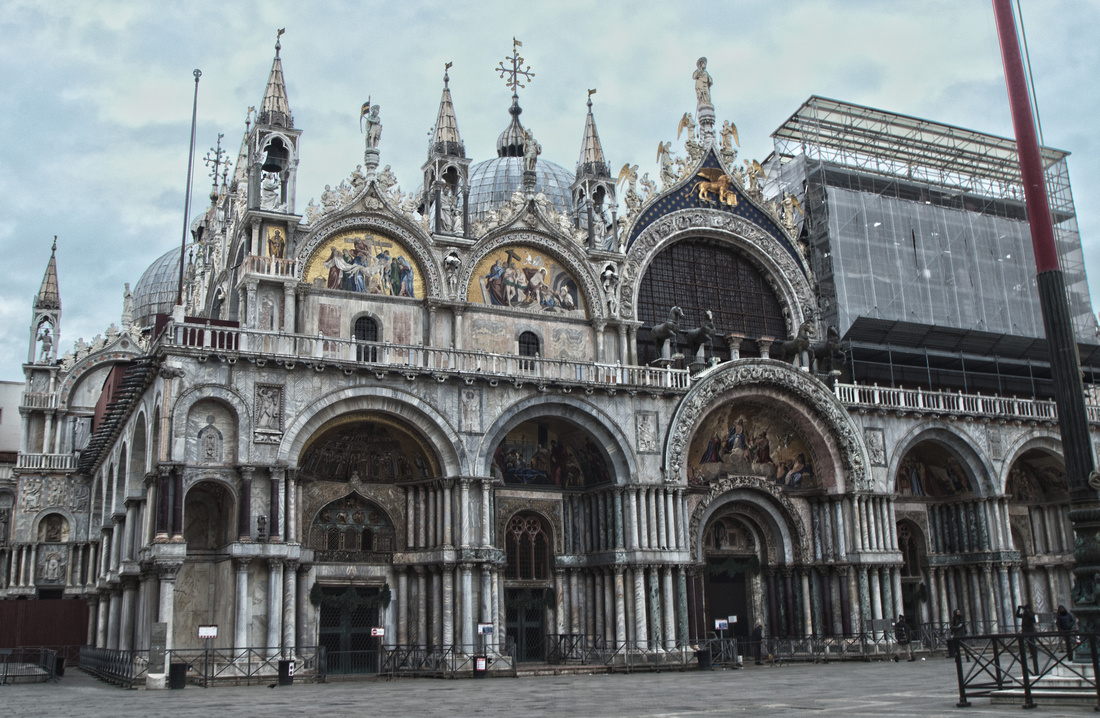 After a few more photos around St. Mark's Square without all the crowds that were sure to come in a few hours, I hopped back on the vaporetto and headed back to our apartment at the northern end of The Grand Canal..and of course snapped some photos along the ride.
One of my favorites parts of Venice and favorite things to photograph is just daily life there. Anything other cities have, Venice has...just on a boat! They have trash boats, work boats, postal boats, cargo boats, delivery boats! And instead of buses, we rode vaporetti! There was even a small market selling fresh fruits and veggies on a boat (you'll see that soon).

There was even a Burger King! HAHA! It was the best-looking Burger King I've ever seen, but that still didn't convince us to eat there. ;)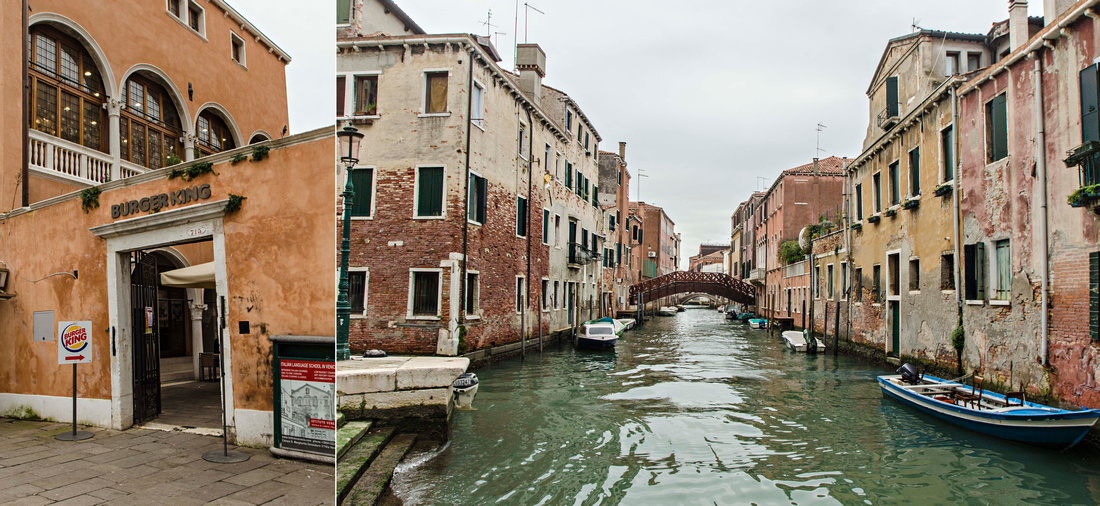 There are well over 400 bridges in Venice (and I swear it felt like we crossed every single one). And every channel was just as picturesque as the one before. And here's the floating market I was telling you about.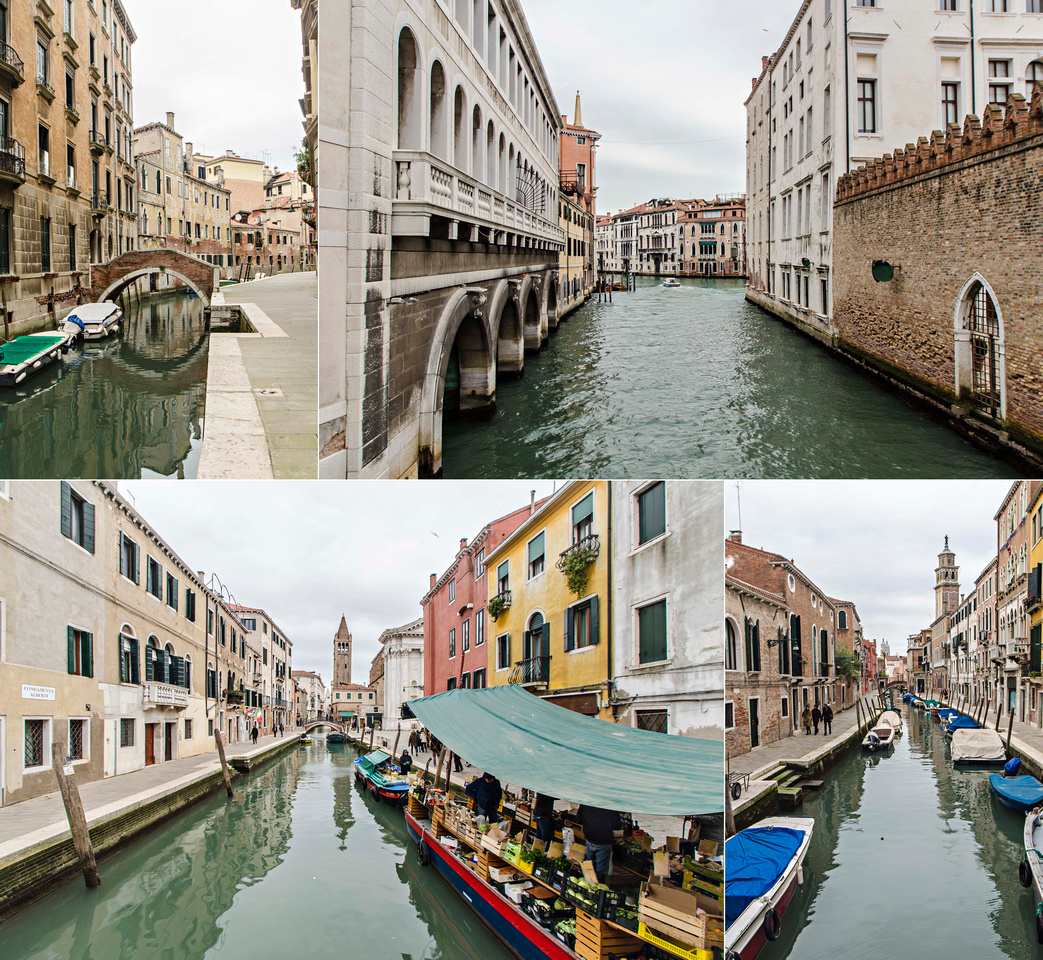 After two and a half years in Europe, we both feel like we've seen way too many art museums and churches to last a lifetime, so we've started looking for more unusual, off-the-beaten-path places to see. We found just that with this great little museum dedicated to Leonardo DaVinci's inventions. It was very hands-on (always a plus for big kids like us) and you could see how these inventions actually worked and what they were used for. It just served to impress me even more with the works of DaVinci. He was finding solutions to problems that didn't even exist yet!
The hubby modeled some of the inventions for my pictures and then I got "The Look"...which STILL absolutely cracks me up every.single.time I look at this picture!!!! HAHAHAHA! So I handed him the camera to let him take some pictures for a change.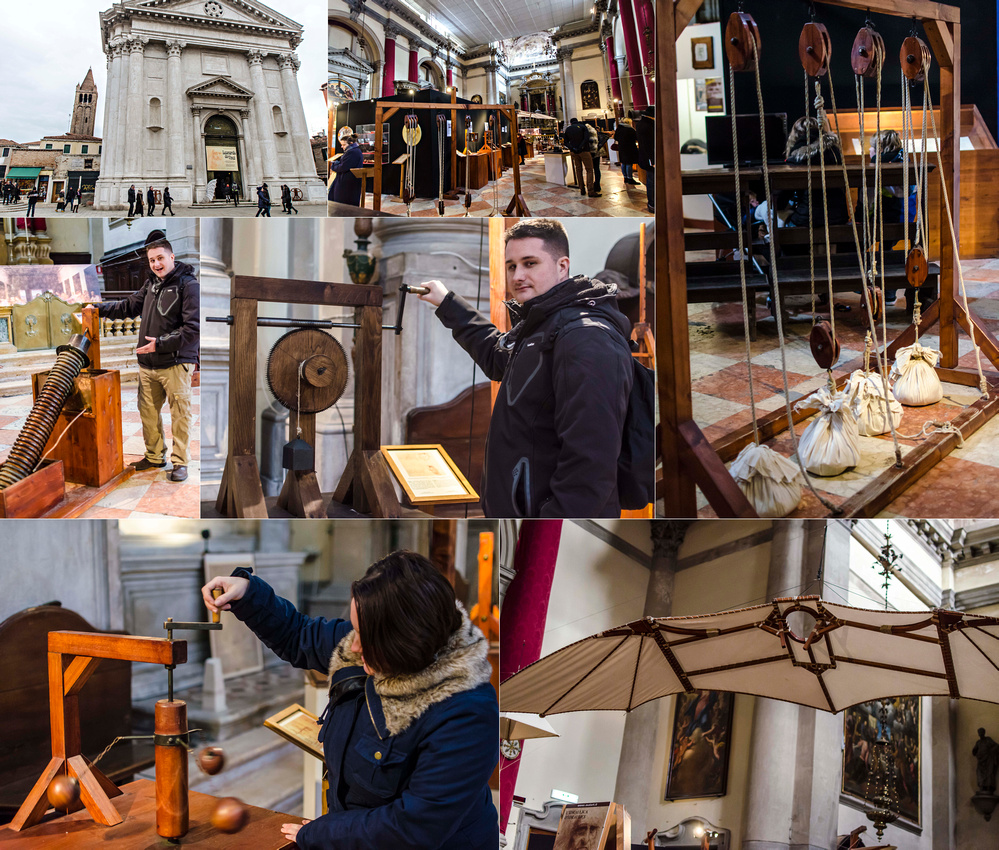 More pretty bridges!


GONDOLAS!!!!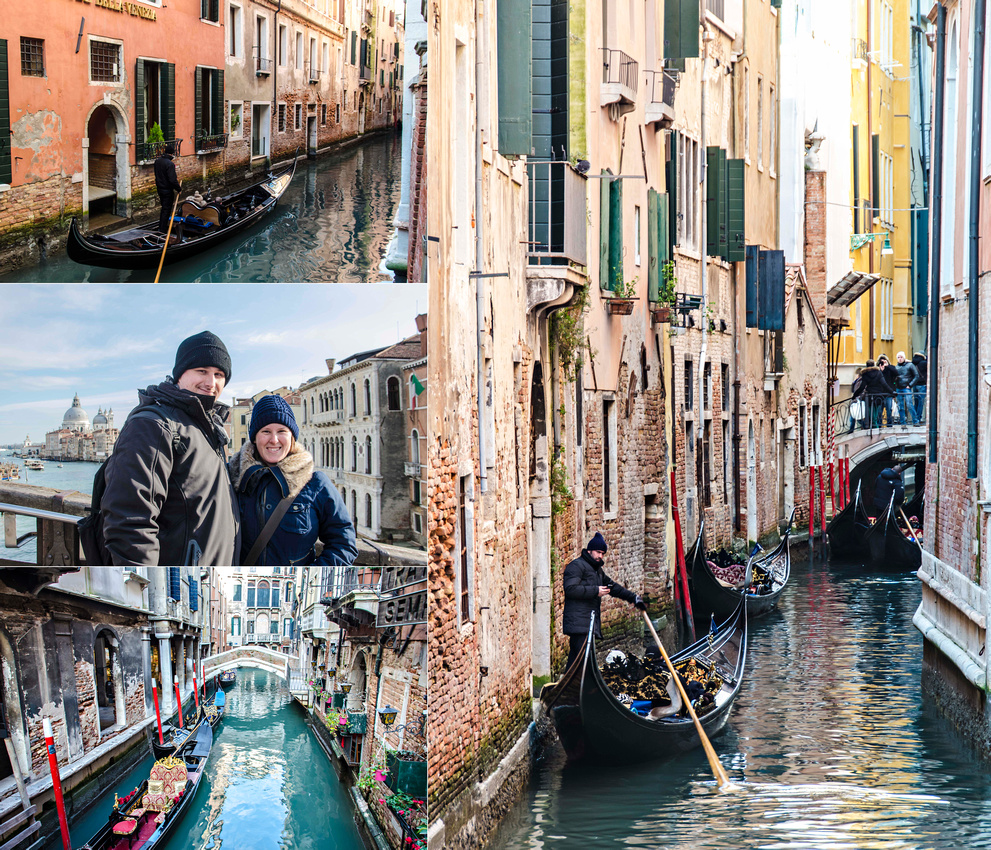 Another off-the-beaten-path place we found was this book store called Libreria Acqua Alta (literally means "High Water Bookstore"). There were books covering every inch of the place, scattered everywhere. There was even a gondola in the middle of the store with books in it. Then we walked to the back and there was a staircase made of books! They even made hand-railings out of oars and wanted you to climb up.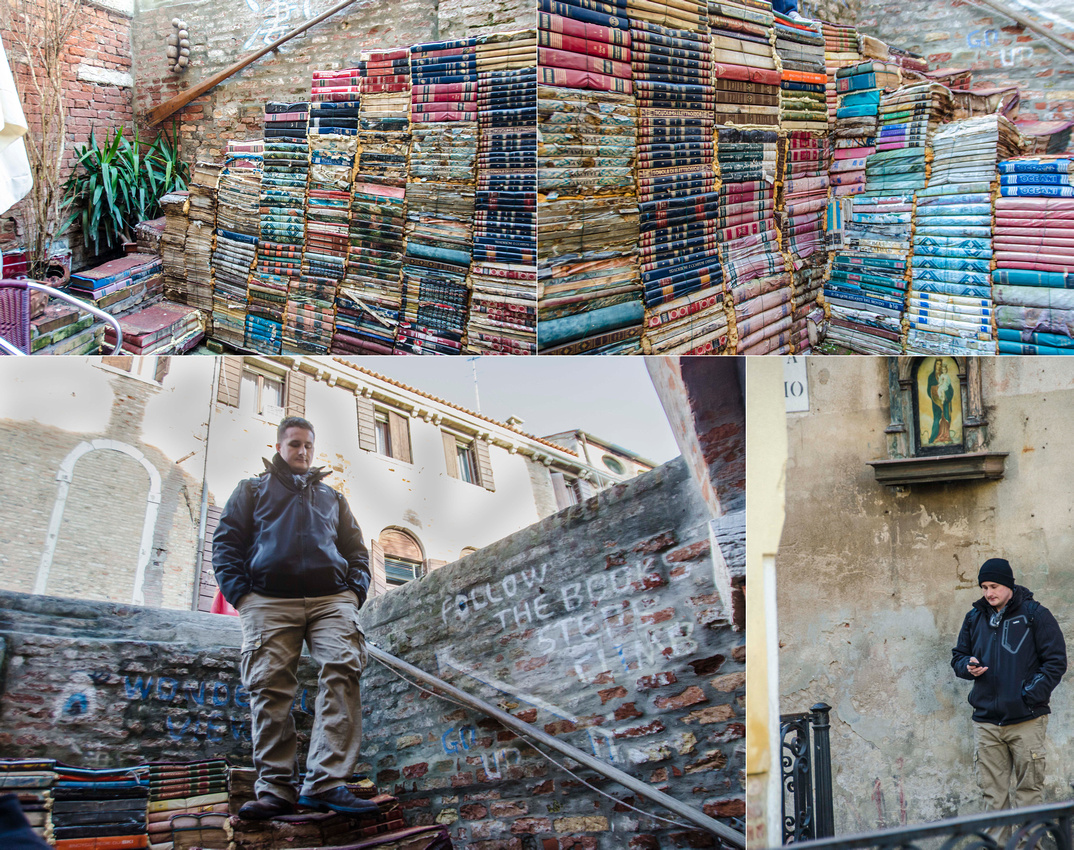 The streets of Naples have NOTHING on Venice! It was soooo easy to get lost in the tiny little streets and alleys. We used the maps on our phones if there was a specific place we wanted to find and STILL got lost...a lot! (See my navigator pictured above patiently waiting for me to finish taking pictures)! ;)


We headed back to St. Mark's Square, which equals MORE PICTURES and MORE GONDOLAS!!!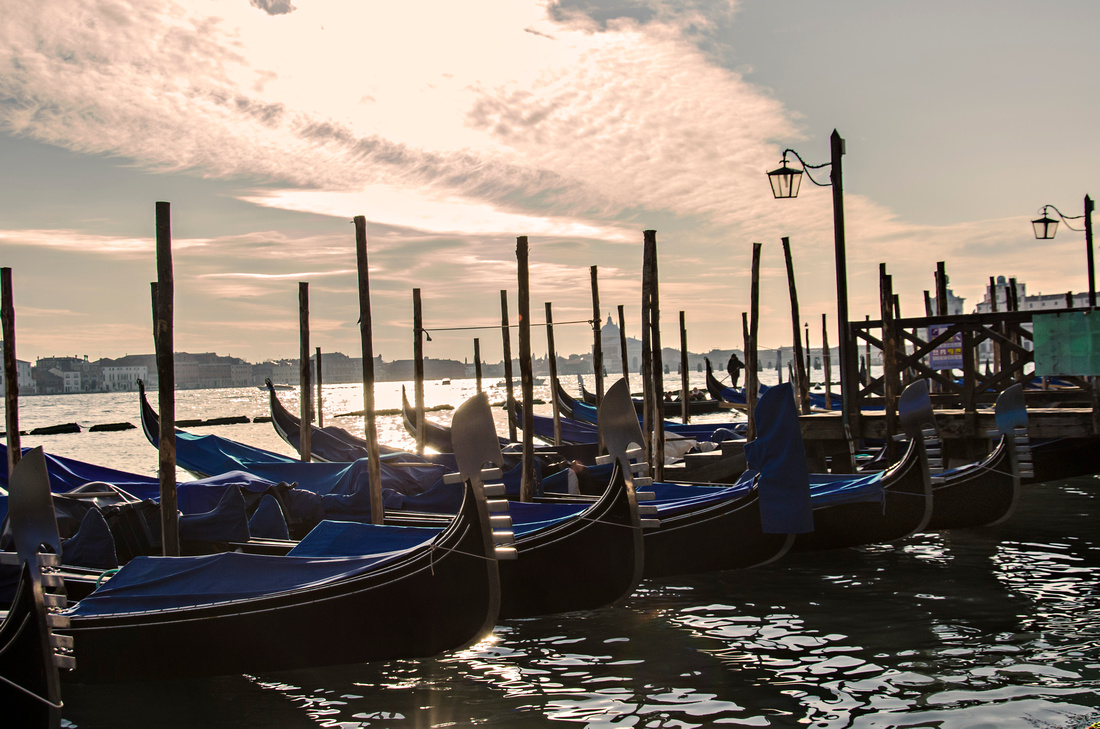 We finally got our gondola ride!!!!!!! Floating down the back canals of Venice was so perfect...even the seagull hanging out next to our gondola agreed!
Our gondolier's name was Franco and he was great! He has been a gondolier for 25 years. He said he couldn't sing, but he was a huge Star Wars fan (we picked the perfect gondolier) so he whistled the Star Wars "Imperial March" for us! Then a few minutes later his cell phone rang and sure enough, it was the "Imperial March!" We had to laugh. After that, Chris officially named our gondola "The Imperial Gondola!" HAHAHA!! Franco was almost as big of a geek as us...almost. ;)
Best quote of the day:
"A gondola is kind of like a girlfriend. You can borrow one, but it's best to get your own." ~ Franco the Gondolier.

That's Franco! And that's the house where Marco Polo was born. It's now a popular theater in Venice.
And then just like that, it was over too soon. We hopped back on the vaporetto to go back to the apartment, rest and warm-up before heading back out for dinner and then fireworks!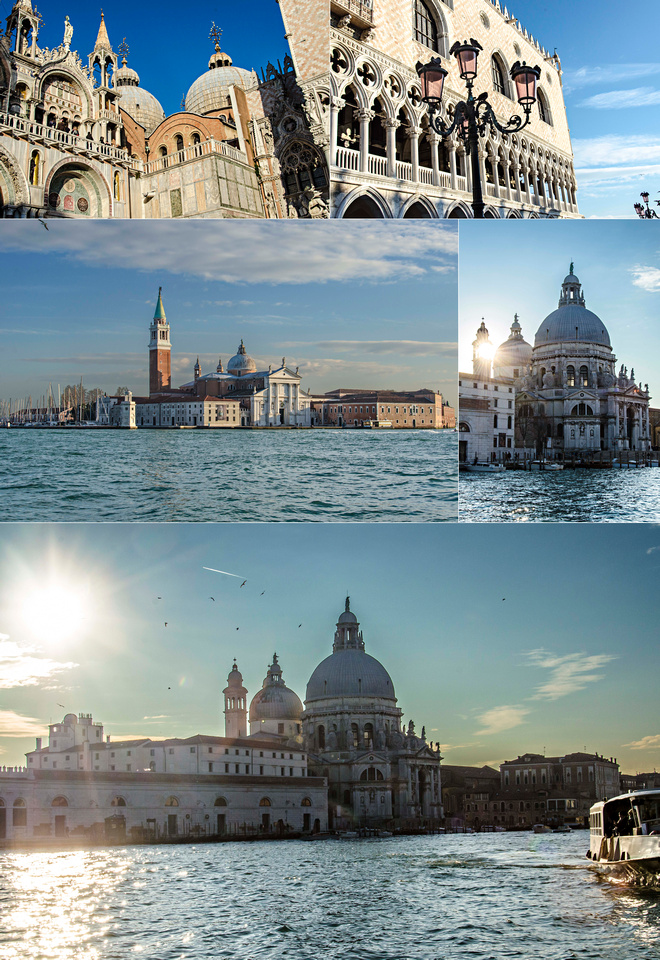 It was the PERFECT time of day for photos where the sun is low, shadows long and the light is warm.
This is a typical vaporetto stop
The lovely Grand Canal and Rialto Bridge.


Pretty much says it all...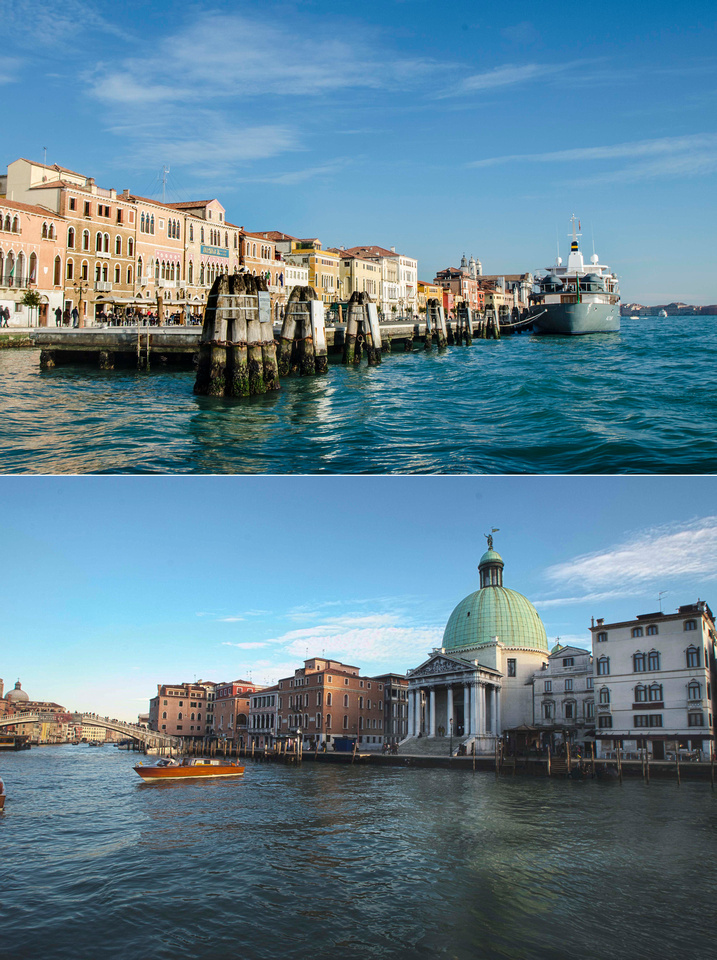 This is the area our hotel was in. Still beautiful and not as touristy.



Then it was time to prepare for the celebration. We knew the vaporetti stopped running just before midnight, so we could have gotten TO St. Mark's Square for the fireworks, but it would have been a long and very cold walk back to our hotel. So we opted for the halfway point and decided to ring in the new year on the Rialto Bridge. We faced the general direction of St. Mark's and hoped we could see the fireworks from the bridge. Too many buildings in the way so we only got to see the very tip of a few explosions over them. HAHA! Oh well, we had a good crowd, there were some sparklers and a few small firecracker pops in the streets, but best of all- we got to celebrate 2015 in Venice!!!! And the view wasn't bad either! :D
This photo was a long exposure, meaning my camera shutter stayed open a long time (in this case 25 seconds) to allow more light in, so those streaks of light you see are passing boats!


We got wild and crazy at New Year...you know, drinking water, staying hydrated and everything. HAHA! And on the walk back, we passed a crepes shop that was still open so I HAD to get a Nutella Crepe!! They are amazing and I don't get them often! Also, the lady who made my crepe told me I was the first customer of the year! YAY!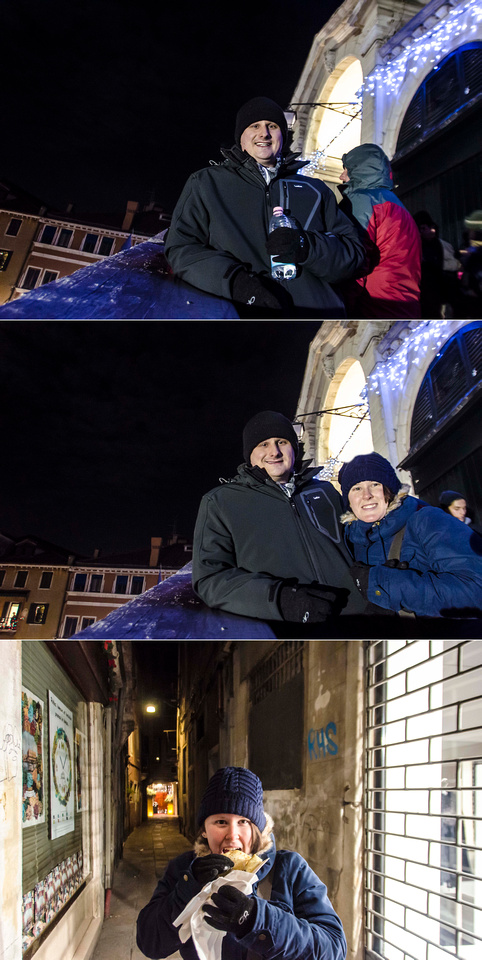 The next day was spent just walking around and getting lost in the ancient streets of Venice. This was probably my favorite place to get pictures! We crossed this bridge several times and I had to get pictures every time - it was a different time of day every time we crossed it! That changes EVERYTHING!! :D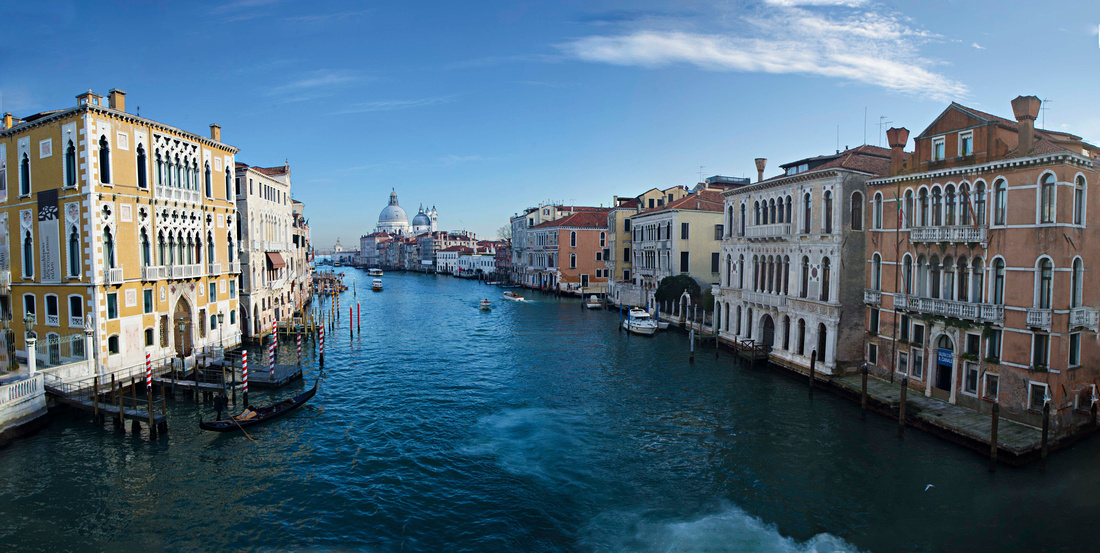 We found a music museum that was FREE to enter and we saw chamber orchestra concerto being advertised. We always try to see a classical music performance on our trips...it's kind of become a tradition. So we got tickets and the music and venue were perfect! The group is called Interpreti Venezian (Venetian Interpretation) and they performed Vivaldi's "The Four Seasons." Sigh...always brings me back to our orchestra days where me and my husband met a very long time ago! :)
We were so impressed! And the cellist was amazing and so entertaining to just watch. He really got into it! Check out their Facebook page here and their website. They will be on tour around Europe and Japan for most of the year.
Here's another view from my favorite spot pictured a little earlier...this time at night! :)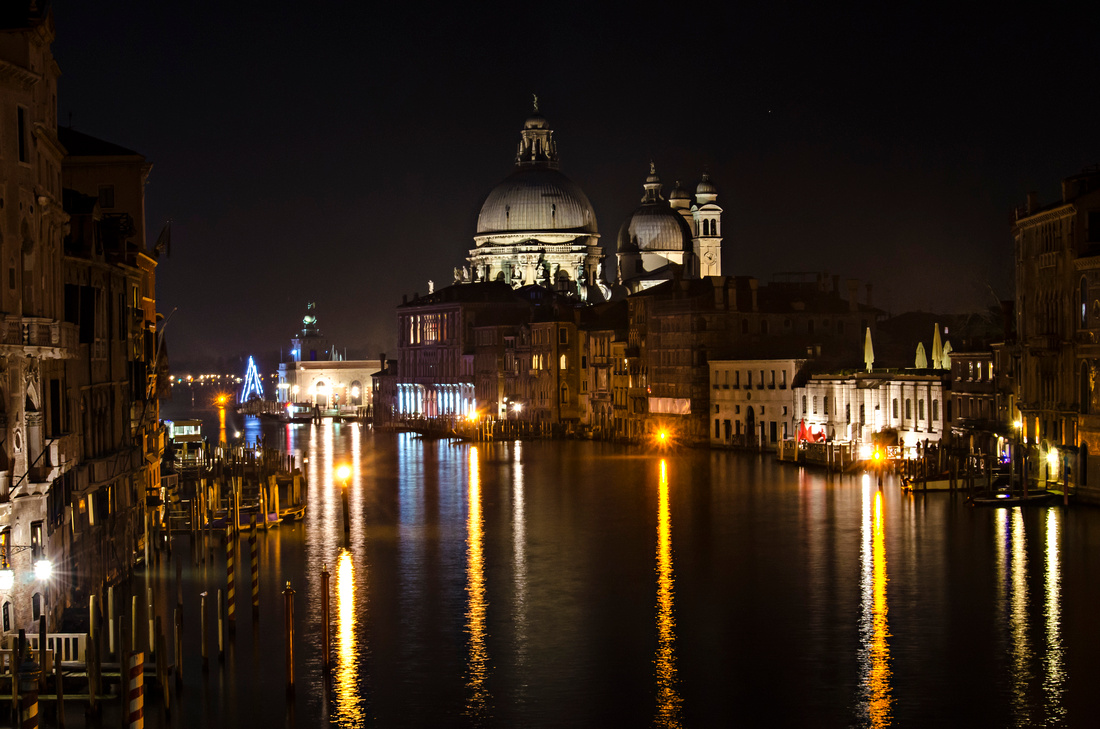 Back at the neighborhood of our hotel! Holiday lights still up!
Venezia, we didn't get enough time with one-another, but one day I will be back..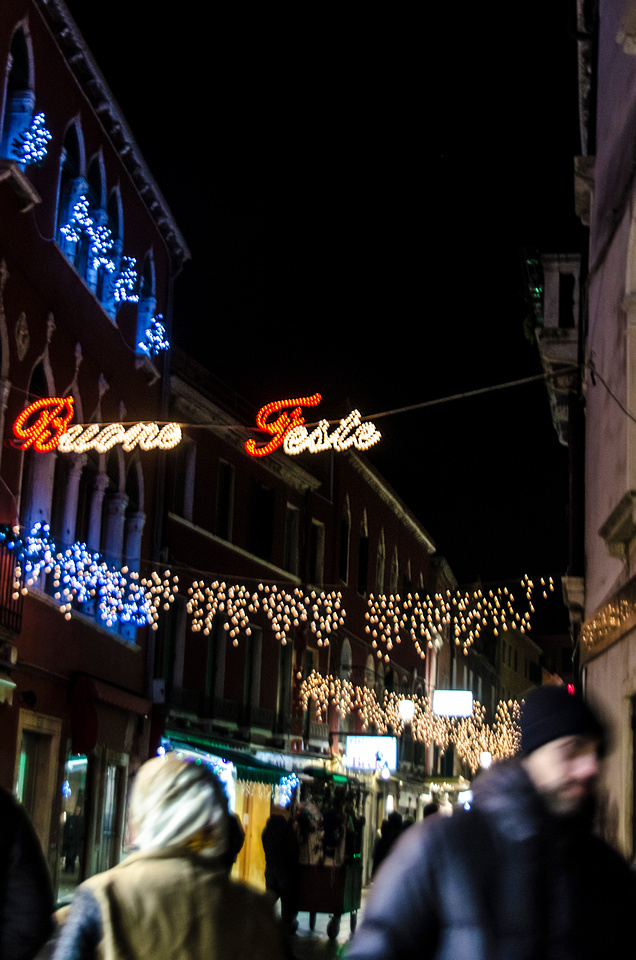 XOXO