Black Friday/ Small Business Saturday Weekend Sale
November 25 - November 28
50% OFF WALL ART
(Discount is taken at checkout)

Contact us when you've decided on your images and we'll help you customize it to your needs.


When you buy a print, you're not just purchasing a photograph to hang on your wall; you're investing in the artist. Shields Photography takes your investment seriously and prides herself in delivering the highest quality prints.
| | |
| --- | --- |
| Fine Art Prints - Size in inches | Price- USD |
| 40x60 | 1399 |
| 30x40 | 369 |
| 24x36 | 349 |
| 16x24 | 169 |
(Custom Sizes Available)
Printing to perfection requires meticulous attention to detail and understanding of the print process and mediums. That's why it's best to contact me directly to receive a high level of consultation and personal service.

Printing is an art form entirely separate from creating a photograph viewable on your screen. Translating what is seen on your screen to a beautiful print to enhance your home or office takes careful attention to detail and quality, which I provide and guarantee. That's also why there is no option to buy prints directly from this gallery. For me to ensure you get the best product possible, I insist on personally inspecting and handling each order.
In addition to the inspection, Amanda will sign each print personally!



All prints are made on high-quality photographic paper with archival quality inks and paper and mounted on a rigid, lightweight artboard, so your art will last a lifetime! Each print is signed and numbered on the back with archival, acid-free inks. Each print is thoroughly inspected and then packed carefully to ensure the print is protected during the shipping process. And we can ship worldwide!

Framing and matting options vary widely depending on each person's taste and the space in which the art is to be displayed. Many of my print clients matte and frame the artwork when they receive it. However, I offer framing and matting options as well. Please contact me for inquiries.

Please Feel free to look around and contact me if you have questions or requests. I especially look forward to reading your comments or feedback. Thank you for taking the time to visit.
| | |
| --- | --- |
| Photographic Canvas Wraps - Size in Inches | Price- USD |
| 33X41 | 974 |
| 30X40 | 859 |
| --- | --- |
| 24X36 | 754 |
| 20X30 | 599 |
| 18X27 | 479 |
| 16X24 | 459 |
(Custom Sizes Available)
Canvas prints are ideal for the buyer who would like a finished, ready-to-hang artwork delivered on their doorstep. The image wraps around to the side and will make a great art installation in any home or office. Canvas has a painterly property making the surreal look of the images come to life.
Images are printed on premier art canvas substrate and professionally wrapped around a 1.5" thick wooden stretcher frame.
This canvas gallery wrap arrives as a finished product ready to hang.
All canvas images are printed on Pearl Canvas Gallery Wraps. This vibrant substrate features a pearlescent surface that adds a dynamic element to this traditional piece of wall art.
Water resistant finish and thick, flexible weave

Pearl canvas meets the Archival Standards for pH and lightfastness
| Metal Prints - size in inches | Price- USD |
| --- | --- |
| 30x40 | 796 |
| 24x36 | 539 |
| 11x14 | 109 |
(Other sizes available)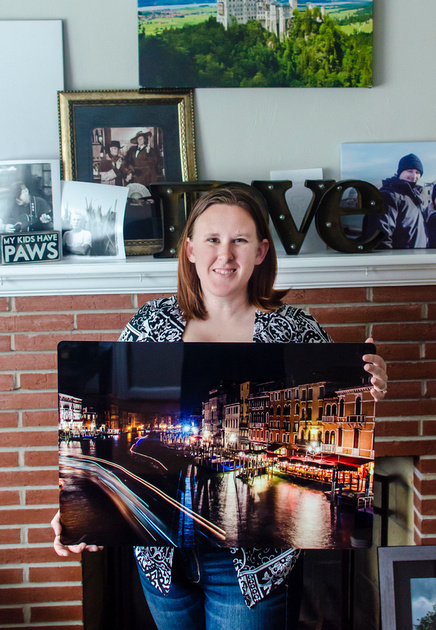 Modern. Edgy. Beautiful. Brushed Aluminum Metal Prints show off your photos in a unique way. A coat of opaque white ink is added to the metal surface, and then the image is printed on top.
Metal Prints represent a new art medium for
preserving photos by infusing dyes directly into specially coated aluminum sheets. Because the image is infused into the surface and not on it, your images will take on an almost magical luminescence. You've never seen a more brilliant and impressive print! Colors are vibrant, and the light is breathtaking. Detail and resolution are unsurpassed.
Mounted on 1" thick aluminum box, delivered directly to you and ready to hang.
Questions? Ready to order? Please contact me directly to receive personal service and consultation.
Thanks for your support!
~ Amanda